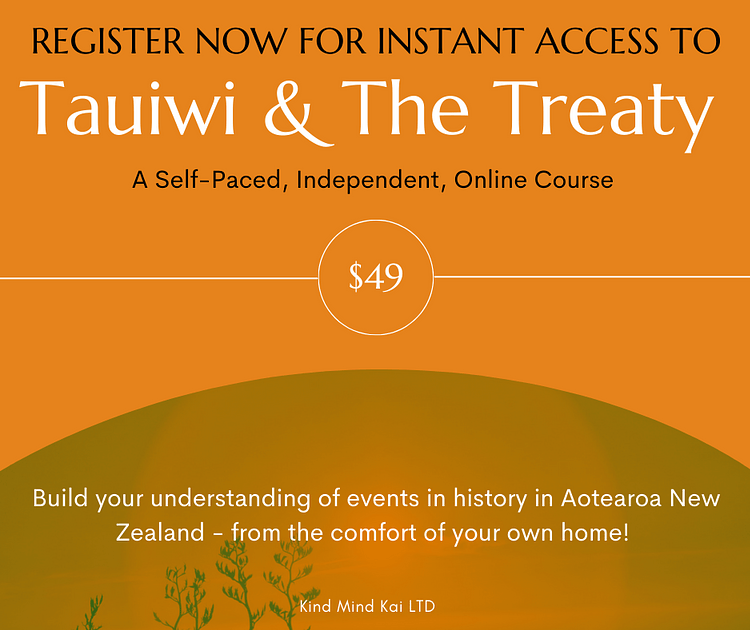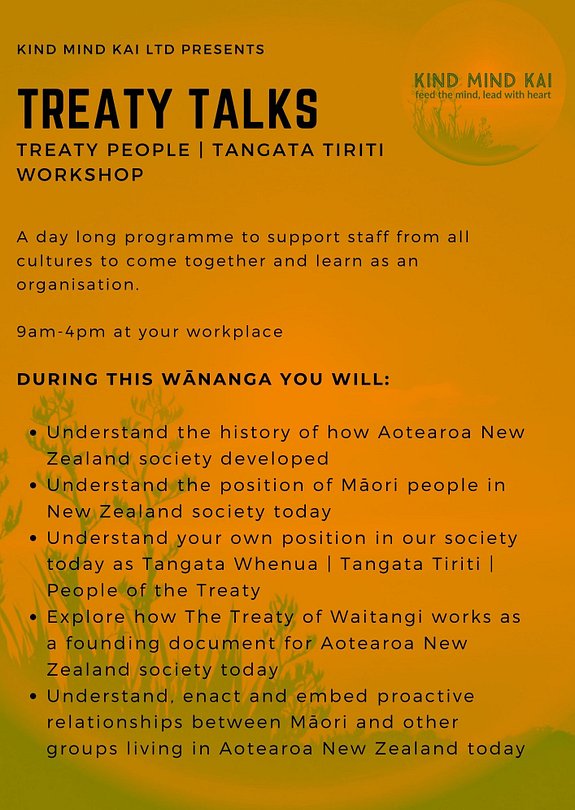 PROFESSIONAL LEARNING & DEVELOPMENT
Kind Mind Kai co-designs professional learning opportunities with schools and centres, to support all educators and school Boards to understand and give effect to Te Tiriti o Waitangi partnership. Jenny is an accredited facilitator and can support you to inquire and compile a PLD application to support your kura | school.

PLD can support local curriculum design, cultural capability, assessment for learning, leadership strategy, growth cycles, and change management.
Te Tiriti o Waitangi Partnership is the first standard of practice, and we help schools, leaders and teachers to give effect to this in a way that radically improves outcomes for learners


Teachers who understand and apply Te Tiriti o Waitangi in practice understand, teach and lead in a culturally responsive way that meets the diverse needs of all learners, leading to equitable learning environments, opportunities, and outcomes


Systematicially and deliberately using Te Tiriti articles to evaluate and guide school, class and teacher practice creates a thriving culture where everyone achieves
Timelines and Partnership Workshops for Schools and Centres:
Workshops designed for educators to activate both the head and the heart, to inform and inspire, to educate and empower.




Topics covered includes Te Tiriti o Waitangi | The Treaty of Waitangi, the development and context of colonisation, along with deep dive into the history of our education system




All this delivered in a soothing, mindful approach that encourages participants to reach into topics of racism and anti-racism in a gentle and compasionate way
"I just wanted to say a huge thanks for coming in to school to deliver your Treaty workshop. With a focus on anti-racism, the dynamic and action packed day was thoughtfully interwoven with waiata, history readings and up to date peer-reviewed thinking." - School Leader
"Treaty Talks": Tangata Tiriti | Treaty People Workshops for Schools and Centres:
Check the Legacy
Kaiako will:

Understand the origin and history of the education system in
Aotearoa, and how colonisation has shaped and impacted
education


Recognise how the education system has contributed to systemic deprivation of tangata whenua, and understand how to act - from this day forward - in a way that is Treaty centric.


Explore and understand bias, and recognise situations when you can use strategies to ensure you check your bias before acting


Be empowered to walk and work in your educational setting as Tangata Tiriti, and in the process empower others to do so.

"I am experiencing an increased level of self reflectiveness, which is not particularly comfortable, but definitely a good thing! Shame is definitely my first reaction to my noticings about my ignorance or lack of self awareness, but you have given some good strategies for self care and shifting from negativity to openness to learning new strategies and behaviours, so thank you for these tools!" - Pilot participant

Day courses are available face to face or online and can be curated to meet the needs of your kura or community.
ONLINE SELF PACED COURSE: Tauiwi & The Treaty $49 per participant


"Jenny is a wonderful facilitator; I felt relaxed and easy in her company. She has a lovely way of responding to what comes up and navigates the group in a way that makes us feel we did it all ourselves" - Workshop participant
"The faciliator was warm, engaging, and focused on the positive" - Workshop participant